Commercial Irrigation Services in Charlotte, Matthews, Pineville & Surrounding Areas in North Carolina
We offer irrigation system installation, repairs, startups, backflow testing, and winterization services!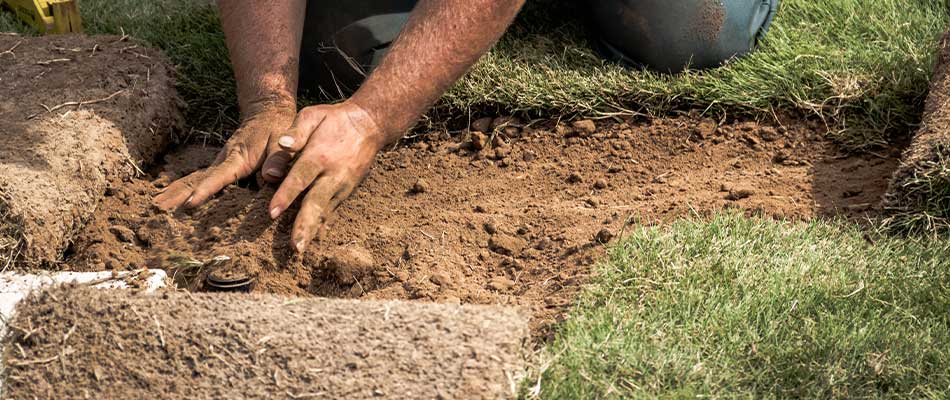 Nothing makes watering the lawn and landscape on your commercial property more convenient than an irrigation system. However, you shouldn't have to deal with anything that comes with it, so whether you need a new system or to maintain your existing one - our team at Smith Grounds Management can handle all your irrigation needs! We offer everything from installations and repairs to startups, winterization, and backflow testing services!
Our irrigation services are available to commercial properties and HOAs in Charlotte, Matthews, Pineville, NC, and other nearby areas. We also serve surrounding cities in South Carolina.
---
Irrigation Installation
If you need a new irrigation system for your commercial property, look no further than our installation service! Depending on your needs, we can install a drip or sprinkler system to keep your lawn and landscape well-watered throughout the growing season. Our irrigation systems also utilize smart technology, meaning you can control it from your phone and even adjust the watering schedule according to the weather and other factors. That way, you can enjoy optimal convenience and efficiency!
---
Irrigation Repairs
Irrigation systems consist of various moving parts to function correctly, but sometimes things happen that lead to breaks or malfunctions. Fortunately, that's where our irrigation repair service comes in! Our team will thoroughly inspect your entire system to locate and diagnose the source of the problem. Then, we'll promptly rectify the issue so it can get up and running again in no time.
We can repair common irrigation system issues, including clogged and broken sprinkler heads, faulty timers and controllers, and more.
---
Irrigation Startup
Bring your irrigation system back online in the spring with our startup service! We follow a comprehensive process to ensure we perform this service right the first time, starting with slowly turning back on the water. Then, we'll go through and assign each zone accordingly, plus check every sprinkler head for any issues. If we notice something that will need repairing, we'll let you know and schedule another time to come back and fix it.
---
Irrigation Backflow Testing
The backflow prevention device is one of the most vital pieces of your irrigation system, as it stops contaminated water from flowing backward and into your drinking supply. At Smith Grounds Management, we offer a backflow testing service, which involves determining whether this device is working the way it should so you can have peace of mind knowing your drinking water supply is safe and free of harmful chemicals and contaminants.
---
Irrigation Winterization
We can safely shut down your irrigation system for the winter via our winterization service! This service involves turning off the water and timer so your system isn't operational while your lawn and landscape are dormant.
---
Call us today to schedule any of our commercial irrigation services.
If you need to install a new irrigation system or maintain your existing one, you've come to the right place! Our crew at Smith Grounds Management has been providing top-notch irrigation services for 35 years, and we have all the necessary training and expertise to keep yours in optimal condition. From installing entirely new systems to performing startups, winterization, backflow testing, and repair services - we can be your one-stop shop for all of it.
We offer our commercial irrigation services to properties and HOAs in Charlotte, NC, and throughout the nearby areas, including Matthews and Pineville, as well as in South Carolina. Call us today at (704) 821-4066 to schedule any of our services!