Lawn Mowing Service in Charlotte, Matthews, Pineville, NC & Surrounding Cities
Our team will mow your lawn, string-trim, edge, and blow debris off hard surfaces.
Maintaining a manicured, pristine lawn will ensure your commercial property or HOA makes a positive impression on employees, clients, and residents. Here at Smith Grounds Management, we offer a lawn mowing service to help do just that. Our team will visit weekly from March until October to cut your grass so that it stays at an ideal height, string-trim hard-to-reach areas, edge along where it meets hard surfaces, and blow debris off your hardscapes. We also implement ideal practices to give you the best results and keep your lawn healthy, including rotating mowing patterns and adjusting the deck height depending on your turf type.
We offer our lawn mowing service to commercial properties and HOAs in Charlotte, Matthews, Pineville, and nearby areas in North Carolina and South Carolina. Call us today at (704) 821-4066 to sign up for this service!
---
Our Lawn Mowing Schedule
We've been maintaining the tip-top condition of lawns in our area for 35 years, so we've structured our mowing schedule to accommodate the growth patterns throughout the year. When you sign up for this service, our crew will visit your property weekly, though we can adjust to bi-weekly for certain areas if needed, typically from March until October; this time frame can vary based on the weather. That way, your grass stays at an ideal height, and your property looks manicured and pristine.
---
What else does our lawn mowing service include?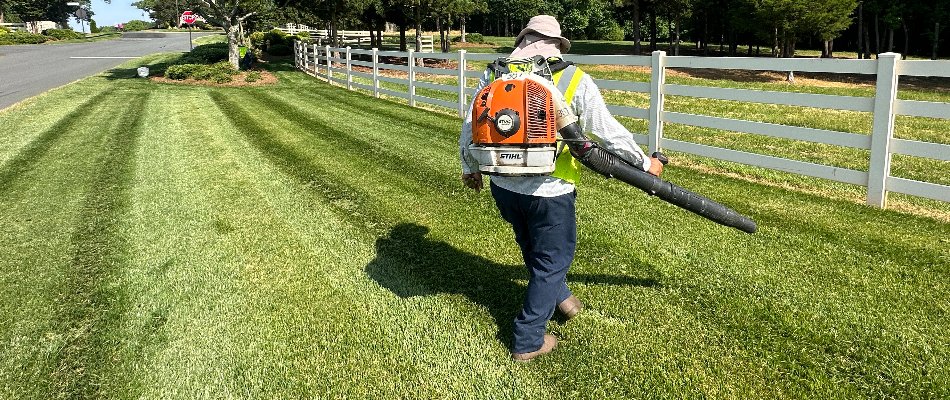 While cutting your grass is essential, it's only a quarter of what our lawn mowing service includes. In addition to mowing your turf, we'll also do the following:
String-Trim: We use a string trimmer to cut grass in hard-to-reach places to ensure everything is the same height and has a uniform appearance.
Edge: We edge along where your lawn meets hard surfaces, like sidewalks and walkways, to create a crisp, well-defined look.
Blow Debris Off Hardscapes: Before we leave your property, our team will blow any grass clippings and other debris off your hardscapes and back onto your lawn so that it's clean and neat.
---
We Implement Ideal Mowing Practices to Keep Your Lawn Healthy & Provide the Best Results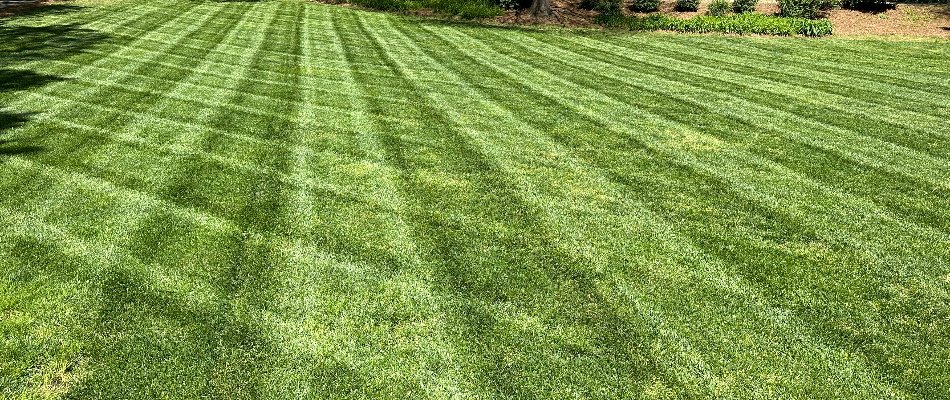 When you hire our team to mow your lawn, you can trust that we'll do it right to keep it healthy and provide the best results. To do this, we implement ideal mowing practices. For example, we'll rotate our mowing patterns each visit to avoid causing ruts across your turf and the soil to become compacted. We'll also adjust our mower's deck height based on your turf type to ensure we cut it to the optimal length; for bermudagrass, we keep it 2.5 inches long, while fescue lawns are 3-4 inches tall.
We'll leave the grass clippings on your lawn after mowing rather than bagging them so that they can return nutrients as they decompose.
---
Call Us Today to Schedule Our Lawn Mowing Service
If you want to keep your lawn looking its best throughout the year, you've come to the right place! At Smith Grounds Management, we offer our professional lawn mowing service to commercial properties and HOAs in Charlotte, Matthews, Pineville, NC, and other nearby areas, including those in South Carolina. You can rely on us to have the experience and skills to maintain the pristine aesthetics and health of your grass. That way, it improves your property's impression on others. Call us today at (704) 821-4066 to schedule our lawn mowing service!